Another Horror Hound Weekend. My third this year. And yet, I find that I am just as excited today as I was last year, when the magazine launched its series of conventions here in Indianapolis. While there are some returning friends--the great Tom Savini, Kane Hodder (Jason of Friday the 13th VII-X), and some of the zombie actors from George Romero's Dawn of the Dead, there are many new faces.




The first person we see as we enter the hall is anther West, Dr. Herbert West, Jeffrey Combs of Re-Animator (Above).

"Where did you get that shirt?" he asks.

"Fright Rags," I tell him.

"That's great...with the hands holding the heart, and the head up there with the bat wings."

"You're on here too," I tell him, pointing to a shadow in the background, holding a glowing syringe.

He laughs, then signs my Re-Animator poster and an Australian mini for Frighteners.

"So..." I ask, "Is House of Re-Animator still a possibility?"

He shakes his head, looking disappointed. "It's dead."

"Really?"

"Yeah. Too many people with money saying 'no.'"

When he signs my Frighteners mini, he uses his line, "My body is a roadmap of pain."

I smile. "Not, 'I'm an asshole with an uzi?'"

"I have written that before," he laughs.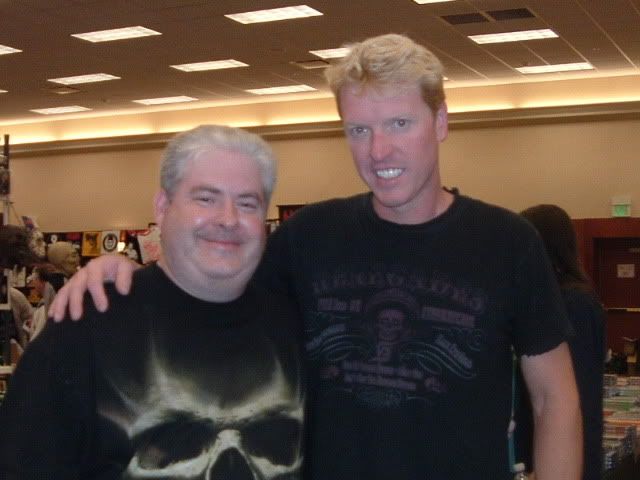 Next to Jeffrey is his Frighteners co-star, Jake Busey (Above).

"How are you?" I ask.

"Fine," he says. "It's early."

"Jetlag?"

"No, not really. I'm just not a morning person."

You would never know it. Busey has a wide grin and is quick to share the fun he had making The Frighteners. He turns to Dee Wallace (Below), his love interest in the film, "We adlibed that whole thing, didn't we? Jackson just let us go."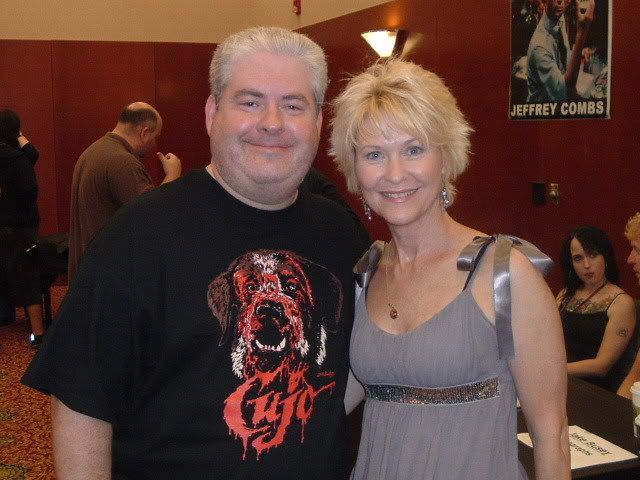 Dee Wallace is wonderful. Just wonderful. She's funny, and very honest. I show her a lobbycard I have from The Howling, one Director Joe Dante signed many years ago with a funny comment. In the time since, Robert Picardo and Producer Mike Finnell have added to it, and now it is her turn.

She points to the poster image in the corner. "You know, that's my mouth."

"Is it?"

"Yeah, you can see my fillings." She then shares with me a behind-the-scenes story that relates to the still, and as she writes, says, "This is going to sound so catty."

"No," I tell her. "Go for it."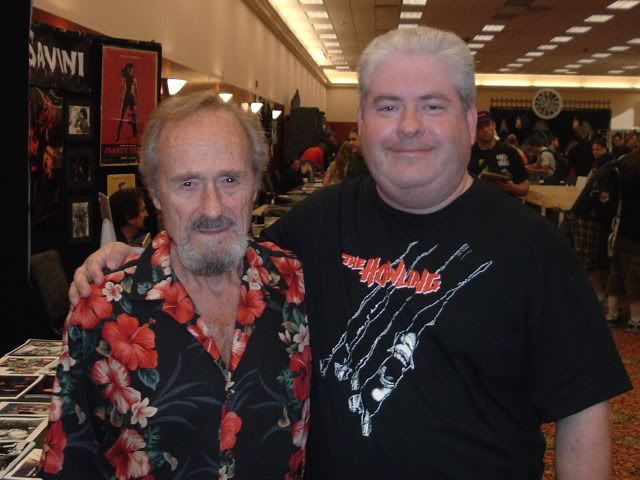 Next...a real thrill. The legendary Dick Miller (Above). Dick has been in just about everything over the years. Piranha, The Howling, The Terminator, V, Gremlins, Night of the Creeps, Pulp Fiction...you name it, and he has probably had a supporting role or cameo.

"Sir...it is a real pleasure to meet you." I hold out my hand.

He shakes it. "And it's a pleasure to meet you. I've been waiting for you all day."

We laugh, and he starts to sign my items, but when I unroll my Night of the Creeps poster, his jaw drops. "Oh my," he says, "that's amazing!"

And that's exactly what I'm saying on the inside when he signs it.

Then he moves on the Howling lobby card, and his co-star, Belinda Balaski (Below) leans over.

"Look at this," Dick says, showing her what others have written.

"I know," she says, "I've heard about it. Now I have to think of something."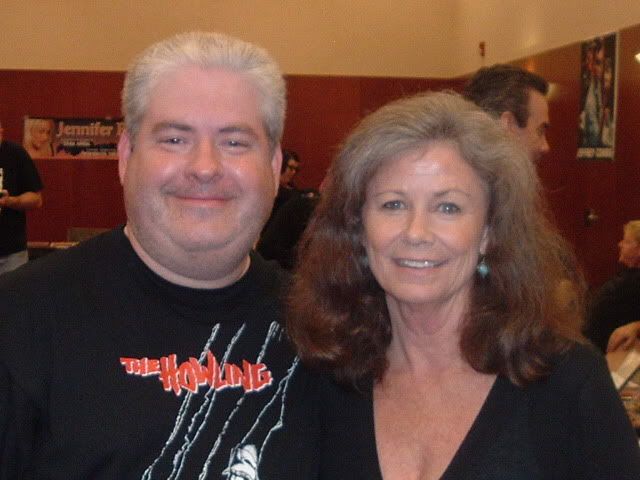 Belinda is so sweet, and so much fun. We chat about everything from HD television to the films she has done for Joe Dante. On her table is a still from Amazon Women on the Moon, and I let her know that it was just on HBO2 last week.

"Was it?"

I nod. "I got it on TiVo. I hadn't seen it in widescreen before."

"Oh, that's wonderful," she tells me. "That means a residual check is coming."

And then we both laughed.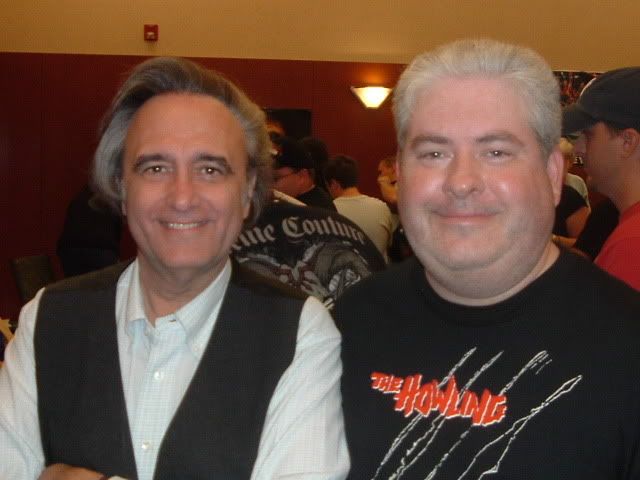 Next came another moment I was waiting for: a chance to see director Joe Dante (Above). Being a child of the 80s as I am, I have grown up with Dante's films. Each one became like a family reunion. Dick Miller, Robert Picardo, Kevin McCarthy would be on the screen, and the late great Jerry Goldsmith would be guaranteed to provide one of his best scores.

After he signs my Gremlin's poster, I show him the Howling lobby card. He reads the comments others have added to it over the years, and his smile grows wider and wider.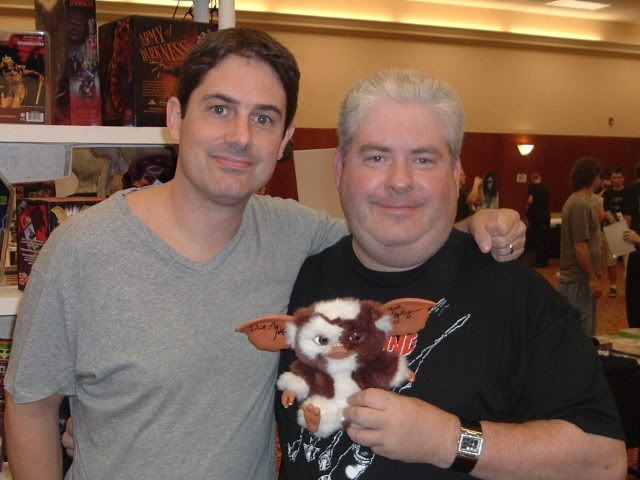 Afterward, we meet the star of Gremlins, Zach Galligan (Above). He signs my poster, and the ear of a Gizmo belonging to my son's friend. It has been almost 25 years, but Galligan look the same as he did when he played Billy Peltzer.

"Is this your first time in Indianapolis?" I ask.

"You know, it is," he says. "This is the first time I've ever been to Indiana."

"Well, I'm glad you were able to come."

"I am too. I'm enjoying it."




Next, we find the Wishmaster himself, Andrew Divoff. Andrew is a great guy. Very friendly, and he obviously loves what he does. He has had roles in everything from Neon Maniacs to Indiana Jones, but we mainly talk LOST.

"Are you back this season?" I ask. "Or will you have to shoot me if you say anything?"

He laughs. "There are rumors, but I haven't heard anything yet. I would love to do it. I love that character."

Fans of the show might wonder how his character, Mikhail Bakunin, could come back, seeing how he was shot with a speargun, then blown up by a grenade. But this is LOST we're talking about. Anything is possible.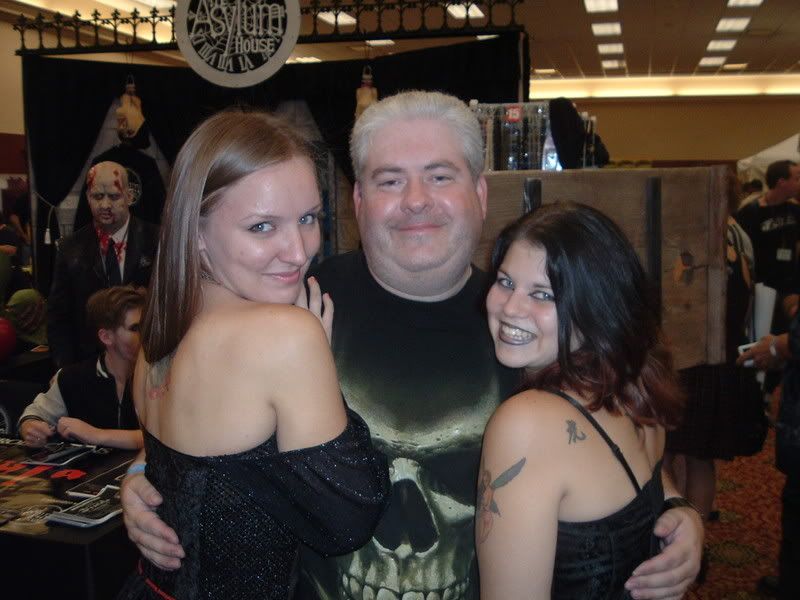 There are so many vendors at Horror Hound; rare posters, T-shirts, and collectibles around every corner. Sure, there are some CDs and DVDs that are bootlegged, just as there are at any genre convention, but there are also some real finds. My favorite: a statue of the ALIEN emerging from the bowels of the Nostromo, complete with hanging chains.

Speaking of chains...

It is while we are trolling the booths that we meet the Asylum House ladies. They are nice enough to pose for a picture (Above)...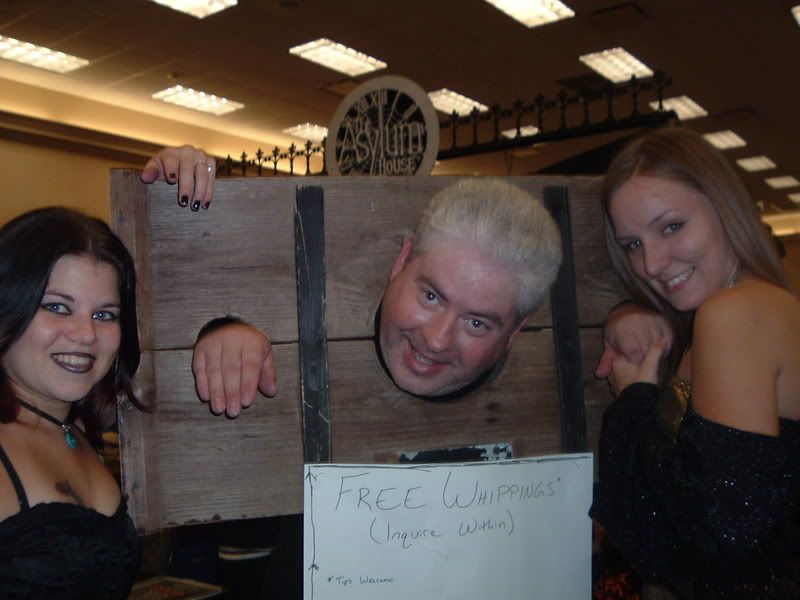 ...right before they put me in the stock and whip me within an inch of my life.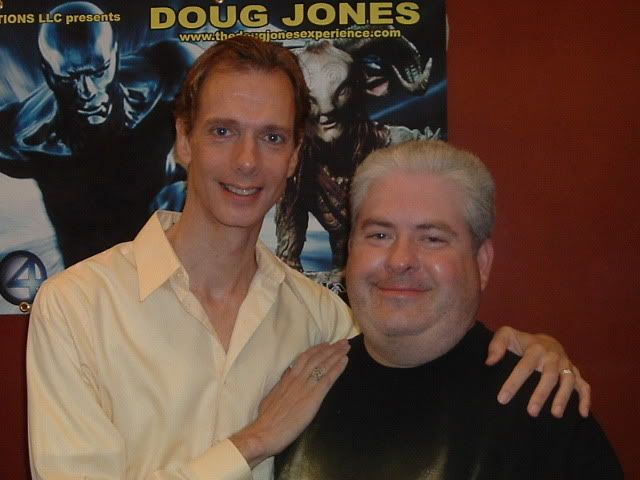 We then see Doug Jones (Hellboy 1-2 / Pan's Labyrinth). Doug (Above) is a native Hoosier, and one of the nicest, sweetest men you will ever meet. I hand him a copy of this week's Indy.com newsweekly, one that features interviews with both of us.

(For the interviews and related Horror Hound story, follow these links:

http://www.indy.com/posts/11089

http://www.indy.com/posts/11086

http://www.indy.com/posts/11087)

"When I walked up to the writer for my interview," I tell him, "You were just getting off the phone with him."

He laughs. "Oh, how funny! Thank you so much for this."

We talk shop a bit, but the line is long, the longest of the convention, and soon we have to move along. He signs a still of the Angel of Death from Hellboy II. The photo has a golden tint to it, and he decides to use a gold paint pen. "You'll have to let this dry a bit longer, but it really looks great."

And boy, does it ever.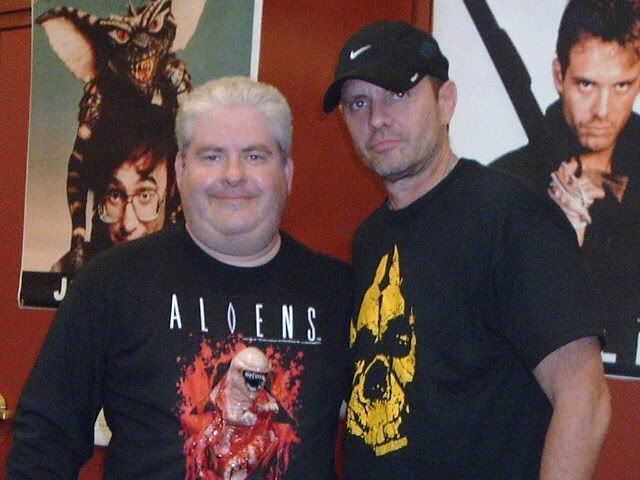 One of the real highlights of the weekend was Michael Biehn (Above). Earlier, when the lines were long, there was not much time to talk. He signed posters from ALIENS, The Terminator, and Grindhouse, we shook hands, and I was on my way.

Later, however, as the crowds died down, my sons and I are talking nearby, and Michael strikes up a conversation with my youngest about his Karate.

"Show me what you got," Michael tells him, standing up in a fighting stance. After my son throws a few punches, the actor smiles and asked him if he wants a picture.*

It is about this time when Tom Savini walks over with a cell phone. "Someone you know wants to say 'hi.'"

Michael takes the phone from Tom, then looks up at him, questioning. "Hey, Arnold," he says into the receiver.

The conversation goes on for a bit, but it soon becomes obvious that this is not actually the Governor. Michael hangs up and hands the phone back. "Whoever that was, he was good."

My young son then asks me for money to buy a "Zombie Hunter" cap from one of the vendors.

"What's he want?" Michael asks.

My son explains, in great detail, what it is that he's found.

Michael then hands the boy $5.

"You don't have to do that," I tell him.

Michael shrugs. "Hey, it means nothing to me, but it's going to give him something he can remember."

My son looks up at me, wondering if it is OK.

"What do you say?" I remind him.

"Thank you!" And then he is gone in a blur. When he returns, he shows Michael his hat, a small werewolf action figure, and some zombie warning signs.

"You got all that for $5?" Michael asks him, just as amazed as I am.

My son nods excitedly. "Now I have seven things to remember you by."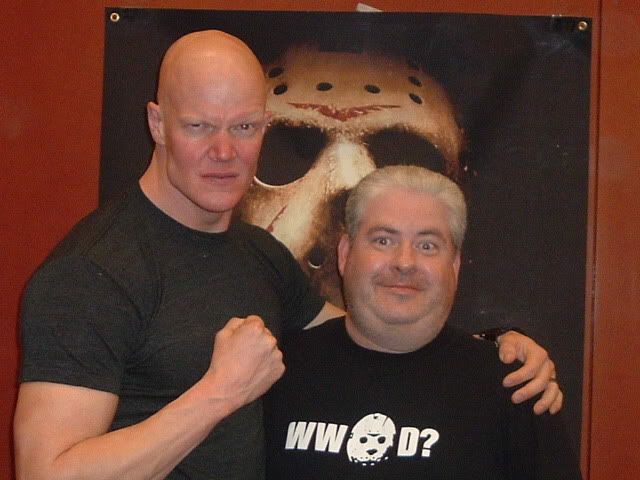 It is now close to 6pm, and the new film Dance of the Dead is showing in the screening room. The room is packed, and when the film hits the screen, it is pure demented joy. This is, hands down, one of the best horror comedies ever made. EVER. And I cannot wait until the DVD release in October so that I can add it to my collection.

The movie is followed by a sneak peek at footage from the Friday the 13th reboot, due out Friday, February 13, 2009. This is the same teaser that was shown to audiences at Comic Con. You might have seen it on the Internet, all blurry and tilted. It was wonderful to be able to watch it clearly. When the lights came up, Derek Mears (Above), who plays the new Jason, spoke at length about the experience of making the film (Below).

Derek is a film geek at heart, and the joy he feels playing a horror icon is clearly evident. When asked how it felt to put on the mask for the first time, he grinned and said, "It was like taking Excalibur from the stone."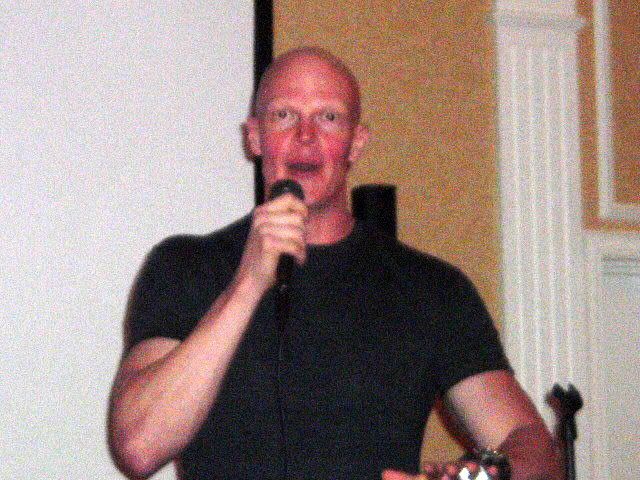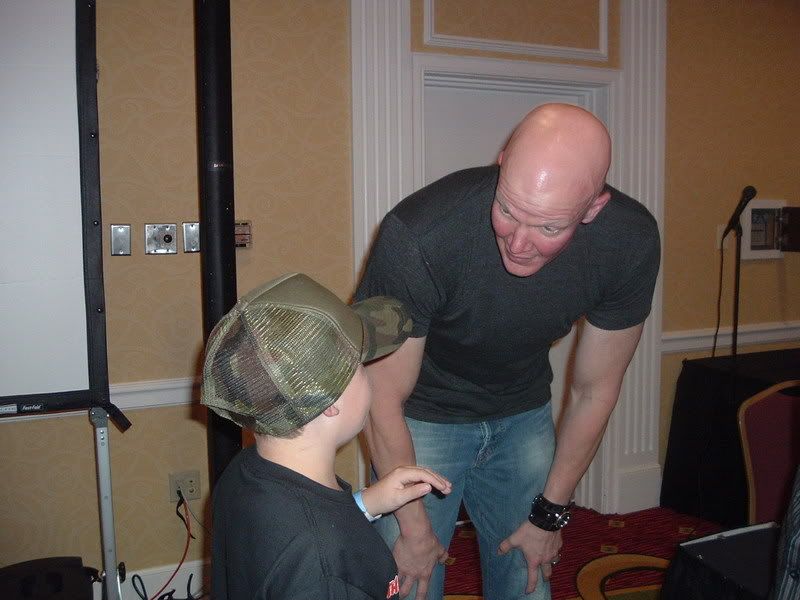 When the Q&A ends, my youngest still has a question, one Tom Savini had drummed into his head over the years. He wants to know how there can be a Jason when the boy drowned in the very first film.

I say, "Go ask him."

And so my son, who has never had a bashful day in his life, walks up to Derek (Above. My son is the short one on the left, still wearing the "Zombie Hunter" hat Michael Biehn bought for him).

"This is what they call a reboot, or a relaunch," Derek explains. "Have you seen the new Batman?"

"Yeah."

"It's like that. It's starting over, like the other films didn't happen."

This satisfies my son, and from what I've seen, I'm hopeful the film will satisfy us all.

And with that, it is time to leave. It has been another Horror Hound Weekend to remember, and with a Night of the Creeps reunion looming in Detroit, I'm certain it will not be the last.

*Author's note: As always, pictures featuring my children have been cropped when possible. When not possible, I have chosen views where their faces are obscured, or have not posted them at all. I hope you understand.